Analisis asam retinoat dalam sediaan krim anti jerawat di Kota Jambi menggunakan spektrofotometri UV-VIS
Hayatul Rahmi

Sekolah Tinggi Ilmu Kesehatan Harapan Ibu Jambi

Yulianis Yulianis

Sekolah Tinggi Ilmu Kesehatan Harapan Ibu Jambi

Kunda Ansusa Putri

Sekolah Tinggi Ilmu Kesehatan Harapan Ibu Jambi
Abstract
Retinoic acid is widely used as an additive in cream bleach, retinoic acid is a list of ingredients prohibited in cosmetics under the rules of the POM 2011. Many cases of the use of retinoic acid found in cosmetics that have a negative impact on health. This study aims to determine the levels of retinoic acid contained in the anti-acne cream on the market in Jambi.  Used thin layer chomatography and UV-VIS Spectrophotometry. Results of identification by TLC shows Rf 0.58 whereas retinoic acid comparison of samples 1,2 and 6 obtained Rf 0.59, 0.58, 0.58 and 3.4 samples and 5 are not formed stain (black spot). Results of the determination of the maximum wavelength of retinoic acid with UV-Vis spectrophotometer gained 348.20 nm. The results of manufacture calibration curve, obtained the regression equation y = 1,25835x - 0.09127 with coefficient correlation (r) of 0.99990. Acid assay results retinoic positive samples, sample 1 = 0.00687%, sample 2 = 0.0118%, and the sample 6 = 0.00412%. Conclusion is From 6 samples just three samples containing retinoic acid, the levels allowed in the preparation of anti-acne cream that is below 0.1%.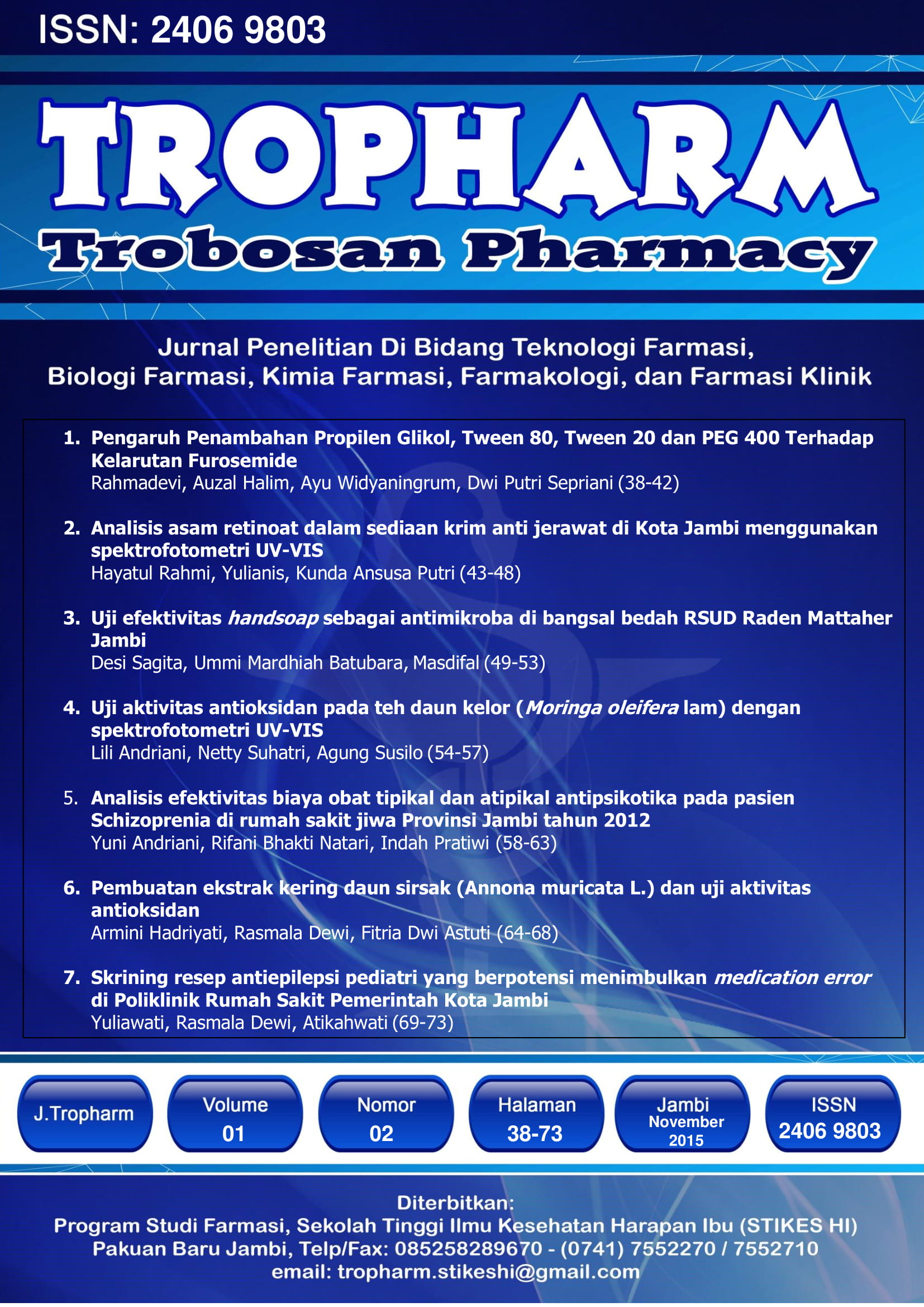 How to Cite
RAHMI, Hayatul; YULIANIS, Yulianis; PUTRI, Kunda Ansusa. Analisis asam retinoat dalam sediaan krim anti jerawat di Kota Jambi menggunakan spektrofotometri UV-VIS.
Tropharm (Trobosan Pharmacy)
, [S.l.], v. 1, n. 2, p. 43-48, jan. 2021. Available at: <
http://jurnal.stikes-hi.ac.id/index.php/tropharm/article/view/472
>. Date accessed: 05 june 2023.