Evaluasi Penggunaan Sistem Informasi Tuberkulosis dengan HOT-FIT Framework di Puskesmas Mergangsan Yogyakarta
Nur Syarainingsih Syam

FKM, Universitas Ahmad Dahlan

Desi Nurfita
Abstract
Background : The Tuberculosis Information System (SITB) is an application for recording and reporting TB cases designed by the Indonesian's Ministry of Health in electronic form. This system is used by TB surveillance programmers at the primary health care (namely : Puskesmas), but in its use there are several obstacles including the system which sometimes becomes slow during the data input process and features that are felt to be incomplete. The purpose of this study was to evaluate the use of SITT at Puskesmas Mergangsan, Yogyakarta using the HOT-Fit Framework approach.
Method : This research design is a qualitative research through descriptive case studies by conducting in-depth excavations through an in-depth interview process and document review regarding the input, process and output of the integrated tuberculosis information system and its contribution to decision making. The informants in this study were the Head of the Puskesmas, SITB Programmers, laboratory and pharmacy staff who used SITT and the deputy supervisor (wasor) from the health office district of Yogyakarta city. The sample selection uses a porpusive sample, namely the selection of samples with certain criteria that are considered to be able to answer the research problem.
Results : Assessment of human factors at SITB is known that system users have received training before the system is used so that the system can be easily used, users are satisfied with the system that has been provided. Assessment of Organizational Factors, it is known that officers who use SITB at Puskesmas Mergangsan are sufficient, namely there are programmers, SITB in charge of the laboratory and SITB in charge of pharmacy, there is supporting facilities from Puskesmas Mergangsan, namely the procurement of laptops. Evaluation is carried out by the Dinas Kesehatan Kota Yogyakarta every three months. Technological Factor Assessment, the quality of the information produced depends on the accuracy of the data entered by health workers, there is still incomplete or clear information. The quality of system services is supported by the provision of a communication and coordination group by the Dinas Kesehatan Kota Yogyakarta.
Conclusion : The implementation of SITB at the Puskesmas is still constrained in the input section of network facilities which has an impact on the data input process which cannot be done quickly, thus requiring support from the Puskesmas. It is hoped that there will be periodic socialization carried out by the Dinas Kesehatan Kota Yogyakarta as an evaluator of SITB users at the Puskesmas so that the use of SITB is more optimal
Downloads
Download data is not yet available.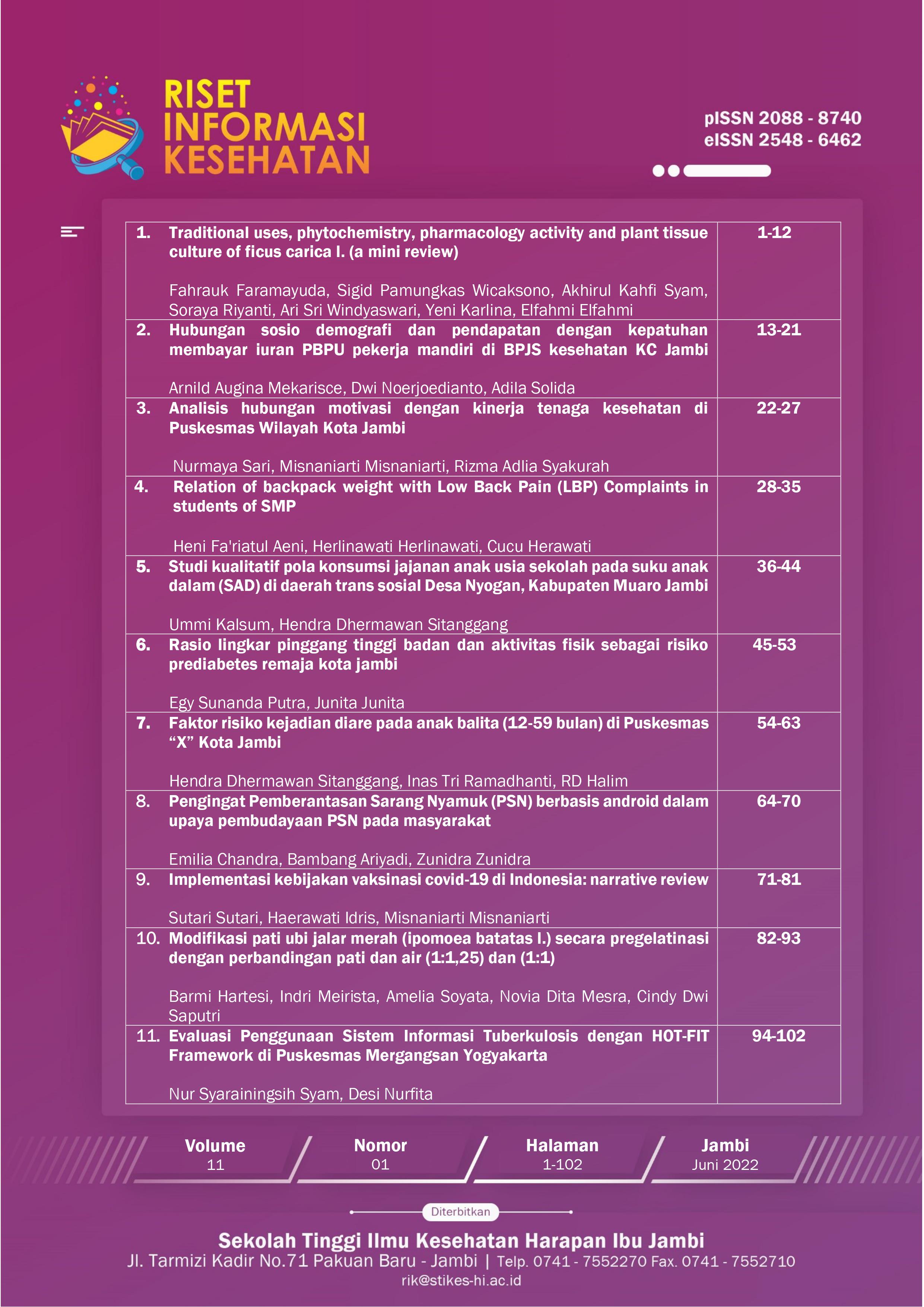 This work is licensed under a Creative Commons Attribution 4.0 International License.