E-Kalpin self-management effectiveness as haemodynamic predictor of hypertension patients during the covid-19 pandemic
Kaimuddin Kaimuddin

Arvida Bar

Poltekkes Kemenkes Jambi

Guspianto Guspianto

Ridwan M
Abstract
Abstract
Background: The intervention program for preventing and controlling hypertension is a challenge for health workers, one of which is by helping individuals do self-management (Self-Care) to overcome hypertension, this can increase their self-confidence (Self-Efficacy) to live with chronic diseases. Self-management is an individual's ability to carry out self-care activities to maintain life, improve, and maintain individual health and well-being. E-Kalpin is a visual-based education developed to improve patient self-management in comorbid patients. Patients can use E-Kalpin as a medium that helps them supervise and control blood pressure.
This study aimed to see the effectiveness of E-Kalpin's self-management as a predictor of hemodynamics in patients with hypertension during the covid pandemic.
Method: This study used a quasi-experimental research design with a pretest-posttest approach with a control group. The population in this study were all patients with hypertension in the Aur Duri Public Health Center working area with a sample group of 30 respondents. The researcher used the E-Kalpin media as a media instrument which was arranged in the form of a questionnaire to obtain information and data from respondents.
Results: This study resulted in a relationship between the use of the E-Kalpin application as a medium to assist them in supervising and controlling their illness. The statistical test results obtained a p-value of 0.018, meaning that at 5% alpha there was a significant difference in the average of the kalpin group and the control group. This means that using E-Kalpin can assist people with hypertension in their self-management thus it can be used as a hemodynamic predictor in daily activities.
Conclusion: Health workers can use E-Kalpin as an educational medium that helps people with hypertension to predict the hemodynamics of the body in controlling blood pressure. For further research, it is recommended to examine various supporting factors or other variables that affect the use of E-Kalpin application media to assist patients in controlling blood pressure.
Downloads
Download data is not yet available.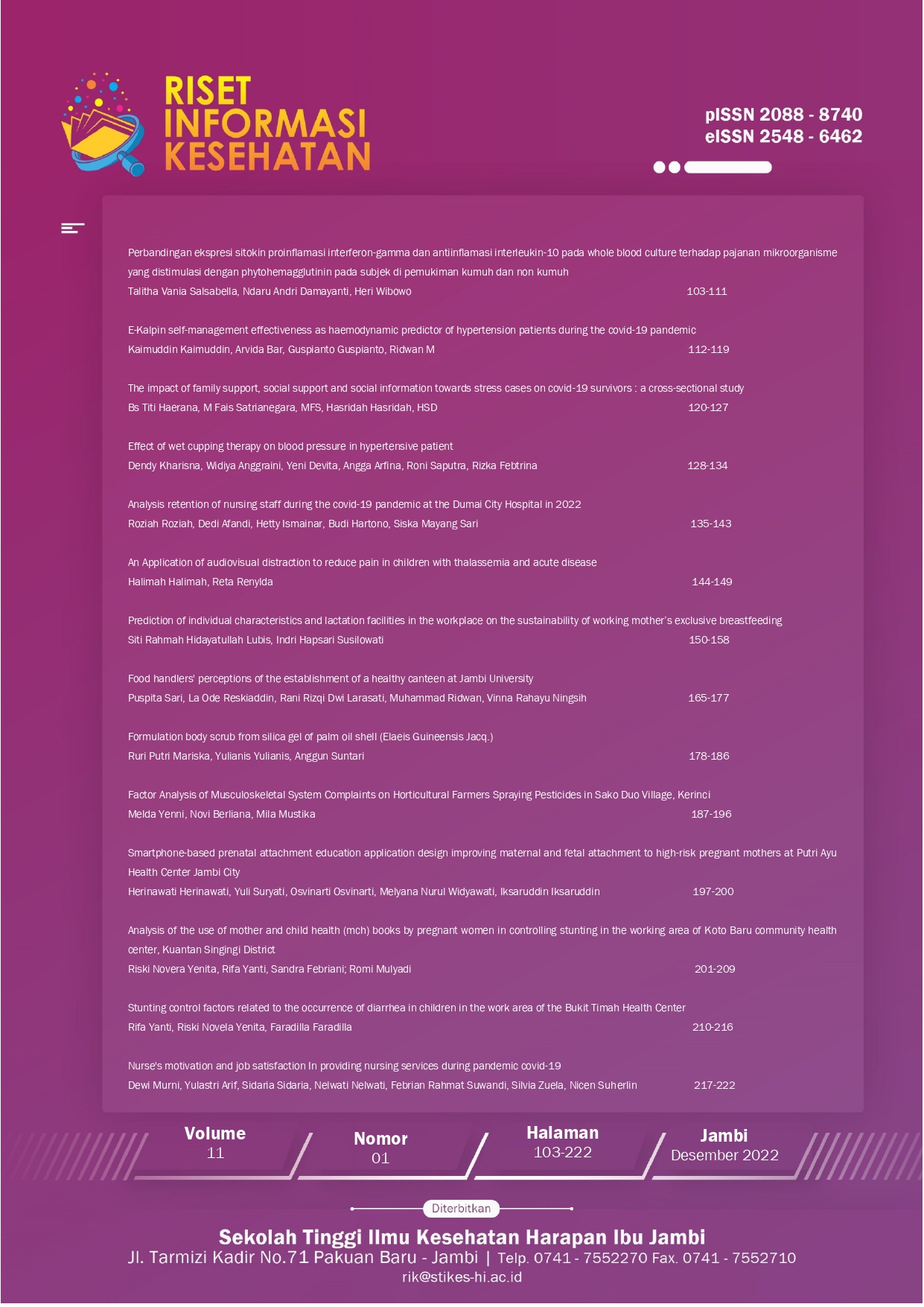 This work is licensed under a Creative Commons Attribution 4.0 International License.